General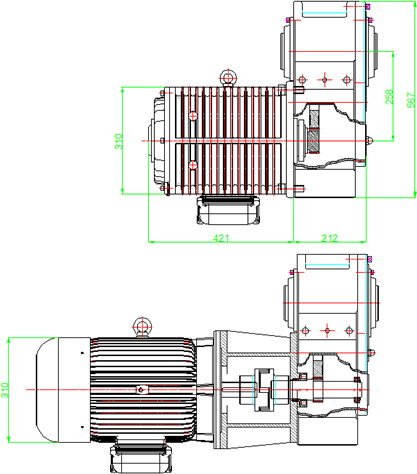 With the descriptions of products from the former company KLOSE Antriebstechnik are presented in particular according to the catalog gears and three-phase drives. As a unit, these are matched to one another in such a way that the motor shaft can become the first stage of the gearbox. This eliminates the need to mount the input shaft for the transmission. In addition, a clutch and a motor support stand are no longer required. Special flanges are available for coupling, which form the end plate for the motor and the connection for the gearbox. These flanges are also made of the cast materials mentioned but are so stable that the freely hanging motor is held absolutely securely despite impacts. For comparison, a gearbox size S258-2A with a ring-finned motor KLOSE, as well as with a DIN motor including fan and clutch. The significantly shorter structure can be clearly seen.
The following tables are intended to show performance data for the combination of motors and gearboxes.
A click on the respective gearbox displays the associated dimension sheet. The tables are intended to create the possibility of estimating the necessary space requirements via the torque.