Replacement Transmissions
Replacement Transmissions
The maintenance and expansion of plants is an issue that demands a lot from project engineers as the plant gets older.
A gearbox that has often been in service for more than 20 years in the steel or metallurgical industry is designed correctly and has proven its durability. If such a gearbox fails, it can sometimes be problematic to replace it because the company no longer exists or no longer builds this gearbox due to product streamlining.
The reproduction of a gearbox is initially a major design effort. But the plant operator cannot rebuild his entire roller table in order to continue producing. The gaps in the roller table will also continue to increase, which increases the urgency of procurement. In addition to geometric planning, the replacement also requires electrical planning.
If a gearbox can be rebuilt or replaced with an existing one, the system operator will incur manageable costs because the system as a whole is not affected.
The company gemota sees this as a task. The replacement of gearboxes that fit into the existing system. The need for coordination between the plant operator and a manufacturing company outside of Europe is hard to imagine.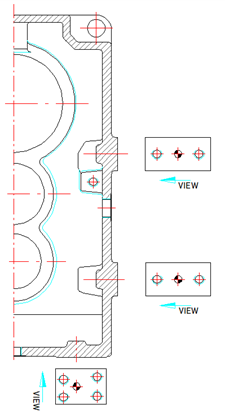 The company gemota is exceptionally well-placed to address this need.
The first step is to try to fit an existing gearbox and motor into the system by adapting it. Ideally, the available installation space is sufficient and the mounting points (screw holes in the KLOSE gearbox housing for fastening) can be used again. This means no changes to the system, no changes to the existing gearbox design with slightly increased planning effort.
KLOSE gearboxes and motors have a large number of pre-cast cams both below and on the side of the gearbox housing, which enable screw connections for assembly. Each gear has up to 4 holes on the side, and there are even 8 in the foot area.
As shown at the beginning, 12 single-stage and 12 two-stage gearboxes are available for planning adjustments. As a manufacturer of gears, the gear ratio can of course also be simulated and a safety design can be carried out according to DIN ISO.
If it is not possible to plan an existing gearbox + motor into the existing system, a complete gearbox must be redesigned. Usually designed as a welded construction, gemota can also design, calculate and manufacture this planning. Even then, the transmission and engine could be connected to each other again without a clutch.
From the recording to the ready-to-ship gearbox + motor, the company gemota the entire creation process.
Below is an example of a gearbox as a replacement design for an existing gearbox:
It was possible to show which gearboxes and which motors belong to the scope of production of the former company KLOSE Antriebstechnik. In addition, it was highlighted how space-saving the combination of gearbox and motor turns out to be. But special designs are the product of customer requests.